MANN Publications: Elliot Bogod has found the perfect home for hundreds of people and businesses, and has sold or leased millions of square feet in the New York area. The morning of Sept. 11, 2001, Elliot Bogod stepped out of the Fulton Street subway heading to his office on Broadway. He knew something was terribly wrong, as crowds of people pushed by him headed in the opposite direction.

That day, he also fled and made it home safely to Brooklyn. But Bogod didn't stay away from downtown Manhattan for very long.

"I believed in the Financial District and I knew it would come back, and it has", says Bogod, who has spent the next 14 years committed to growing Broadway Realty, the full service residential and commercial real estate brokerage firm he founded in 1998. "After 9/11, downtown was a ghost town", says Bogod. "Sales were dead".

Today is a far different landscape, with Bogod and his cadre of seven brokers busy selling and renting high-end apartments to some of the city's wealthiest clients, both Americans and Europeans. Clients include those who want to own or rent real estate in the city's hottest destination that is rapidly changing and becoming a 24/7 neighborhood with growing residential and retail projects proliferating.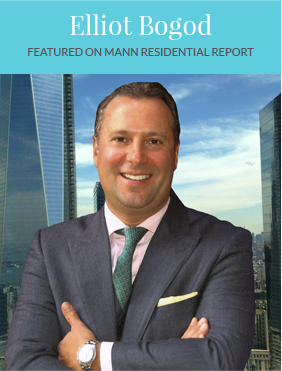 According to Bogod, the Financial District's residential population has nearly doubled, from 23,000 to 43,000 since 2000 and is still growing, says Bogod, who points out that prices too are going up and developers are taking notice. Between 2014 and 2017 about 1,000 new condos and rentals will be built according to the Downtown Alliance, statistics that make Bogod and his team very happy.

The area is also hoping with new commercial locations like Brookfield Place, a commercial waterfront location and will anchor a new Saks Fifth Avenue, and over 70,000 square feet of offices and water front restaurants featuring Hudson Eats, the popular gram and go destination. Along Broadway, major retailers like Urban Outfitters, The Gap and Zara have set up shop.

"We are proud to have a reputation as the go-to brokerage for our first-hand knowledge and expertise in this part of Manhattan", adds Bogod, whose office is now located at 150 Broadway, where it has been for the last two years, just down the street from the firm's previous offices at 198 and 170 Broadway.

Bogod has found the perfect home for hundreds of people and businesses, and has sold or leased millions of square feet in the New York area. He also specialized in investment opportunities (retail condo investment properties) in Miami as well as New York.

He has also sold residences in other parts of the city, at Time Warnet Towers, Fifteen Central Park West, Ten West End Avenue, the Plaza as well as Trump's International, Riverside and Park properties.

"I always wanted to run my own company, and I am living a dream", says Bogod, who came to the United States from St. Petersburg, Russia as young teenager with his mother. Before starting Broadway Realty, he worked at Cushman Wakefield as a commercial office broker for two years.

Bogod, who is married and lives in Manhattan with his wife, Valerie and two young children, was one of the first brokers to be named Residential Specialist by the Real Estate Board of New York. He holds all certifications for the New York Real Estate Institute, Real Estate Division of the ACE as well as Florida's Gold Coast Real Estate School.

On May 29th when World Trade Center's Observation Deck officially opened, Bogod was there with his entire staff. "I bought tickets for everyone", he says. "It was a great day of celebration for Broadway Realty and for the city".